Aug. 5-9, Astoria, Oregon
Last year my oldest son moved from Corvallis to Astoria, about a four-hour drive away. In all the years I lived in Oregon I had never been to Astoria and Vic had not been there since the 80s. Our main purpose in visiting here was to see Brooks but it was also a chance to check out the northern coast. While we were here, we also ventured across the bridge to Long Beach, Washington—another place neither of us had ever seen.
One of the most popular campgrounds in Astoria is
Ft. Stevens State Park
which has about 300 sites. We booked reservations here in early June and, to attest to its popularity, were only able to find a site Sunday-Thursday. Fortunately, Brooks had Tuesday and Wednesday off so this plan worked well for us. Ft. Stevens is actually located in the town of Hammond on a small peninsula about eight miles from Astoria. The Fort was originally built as an active military post that has been restored for public viewing in a designated historic area of the park. For us, the park's best feature was the seven miles of bike paths and hiking trails that lead you to the South Jetty, Coffenbury Lake, and the historic viewing areas. There is also a trail that leads to the beach area where the remnants of the wreck of the Peter Iredale, a 1906 ship sailing from Liverpool to the mouth of the Columbia where all were rescued, lie directly off the coast.
As far as state parks go, we have to say it was our least favorite in Oregon so far. The sites were heavily wooded with tall Sitka Spruce trees with concrete pads for parking but the campground area itself was just dirt. They did have fire rings and even a service where they deliver wood to campsites each night, but we also discovered something rare in Oregon: mosquitoes. When we were riding our bikes on the trails, we saw several algae-covered streams and sloughs, perfect breeding ground for these pesky bugs.
Our days here were pretty full with activities outside the park. We arrived in the afternoon on Sunday and that night Brooks brought us dinner: fresh ling cod fish tacos. After visiting a while, we tried to tune in something on the antenna (no satellite reception with all those trees) and were happily surprised to be able to watch the Olympics on NBC. Brooks had to work Monday, so we spent that day on our own visiting some of the local landmarks in such as
The Astoria Column
. The Column is a 125 ft. structure covered in a mural which depicts key events in Northwest history that occurred between 1792 and 1818.
Visitors can climb to the top of the column to a viewing point by ascending 164 steps. We made the climb and the most challenging part to me was feeling dizzy from going round and round in tight circles. On top of the column, we learned that a popular thing to do was to fly small balsam wood airplanes off the top, watching them catch the wind currents as they sailed off into the distance. The park gift shop sells the planes so they must also have someone do search and recovery for lost planes at day's end. The 360 degree view from the top really gave me an appreciation for the vastness of the mouth of the Colombia and the lowlands of the bays and rivers flowing into it. No wonder my son keeps telling me about the tsunami warning system here. The geologists say it is a matter of time before a major quake happens offshore setting off a tsunami on the Oregon coast. I guess every place has its challenges in terms of nature's threats.
After our visit to the Column, Vic and I enjoyed a walk around the downtown and waterfront area of Astoria. I loved its historic charm and seafaring atmosphere. They even had original J.C. Penny and Sears Roebuck stores that were still in business downtown. As a major fishing and maritime port, the town is full of relics related to the industries of fishing, canning, and lumber. The large homes on the hill built at the turn of the century give the town an old New England feel. Along the waterfront there is a trolley that runs along the street lined with chowder houses and taverns. There were also several freightliners anchored out in the river and every so often you would hear them blast their horns, a constant reminder of the significance of this waterway. By volume, the Columbia is the fourth-largest river in the U.S., and it has the greatest flow of any North American river draining into the Pacific.
Our next tourist plan was to take a ride to the Long Beach, Washington area with Brooks who had not yet ventured there before either. Long Beach is located along a one-mile long flat of sand which is a popular oceanside resort town. Our first stop here was a corny tourist stop called
Marsh's Free Museum
. It was quite a place filled with antique games and fascinating oddities from the past. I put a nickel in an old machine that advertised by looking in the viewfinder you would be able to see yourself as others as see you. In the window, what you see is an animated jackass. Funny. The museum's biggest claim to fame is a display of Jake the alligator man—half man, half gator. Word has it he has quite a following among tabloid readers. Unfortunately, we just missed his gala 75th birthday party celebration. Woe is me.
A little further north of Long Beach is smaller tourist town called Ocean Park. We came upon a large and interesting looking General Store called
Jack's Country Store
boasting that is the world's largest independently-owned hardware store. Looked like another good place to roam around. This place had everything imaginable for camping, fishing, hunting, cooking, and groceries all crammed into the size of a large grocery store. The camping aisle had over fifty different types of implements for cooking over a campfire. I had never seen so many types of roasting sticks, pie holders, burger presses, etc. We were also impressed with the variety of devices uses for razor clamming: all kinds of angled shovels, stainless steel "guns," and special tamping tools. I have never gone razor clamming, but know that I would love it. another "must-do" next summer.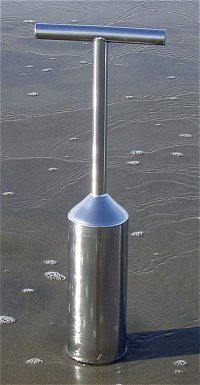 One of the surprises here and in the Seaside/Astoria area is that cars are allowed on many of the beaches. The tradition of driving on the beach dates back to the early days of the automobile where folks could take a leisurely drive on the hard-packed sand looking for that perfect fishing spot. Fortunately, there are restrictions in place to protect nesting grounds of birds and other marine wildlife, and no ATVs are allowed. We took the dogs with us on this trip and let them get in a good run on the beach too—even though there are leash laws, we didn't see any dogs on leashes on the beach. It was also pretty quiet since is was a Tuesday.
The beaches in this area are well-known for their razor clams. Brooks showed us his method for finding them: stomping around on the sand, looking for a little whole indicating their presence, and then digging from the surf side in to capture them. The limit is fifteen per person and you must keep any that you dig. You also need a permit. The season was just about over when we there and the beach we were on had been heavily harvested. They are typically served breaded or battered and fried or sometimes used in chowder. This area also boasts some of the best oysters in the country from Willapa Bay just to the east of Long Beach. The best months for oysters are usually those that end in "er"—but we still thought it was worth a drive to the little town of Oysterville on Willapa Bay to see what we could find.
Oysterville looked like it had a population of about 500 people, and the little houses were much like the ones we saw in Stonington, Maine: weathered wood siding, picket fences, flower boxes and big garden patches. We found the
Oysterville Sea Farms
which did have fresh Willapa Bay oysters for sale. Fulfilling our plans for dinner that night, we purchased three dozen small oysters in the shell which we cooked on the grill with garlic butter, lemon, and white wine. Definitely worth the one hour trip.
With our oyster purchase on ice, we traveled back to Astoria to one of Brooks' favorite spots for lunch: The Wet Dog Brewery and Café. Had to try their local brew with their homemade chowder and garlic bread. Really charming local spot with a good view of the river and lively atmosphere.
On our last day in the area, the three of us went out to breakfast in the little town of Warrenton, where Brooks lives. He wanted to try a new restaurant that had just opened called Serendipity Café. Good call—we all enjoyed a hearty breakfast together and were set for another full day of sightseeing with plans later in the day for Brooks and me to go fishing in our kayaks.
I wanted to go to Seaside, about a half hour ride to the south as I had never been there before. Vic used to go fairly often as the convention center there hosts many education conferences, especially the ones for administrators called COSA. Seaside is also known as the end of the line of the Lewis and Clark trail so there is an historic element that also draws visitors to this busy seaside town.
Other draws are the world's largest
amateur beach volley tournament
and its location as the end of the annual
Hood to Coast
run. Consequently, there are tall condos and hotels along the beach and a carnival-like atmosphere in the downtown with several arcades, a carousel, and other amusements for family vacationing. We enjoyed walking along the one and half mile boardwalk that parallels the ocean beaches with mostly residential or vacation homes lining what locals call the Prom for Promenade.
The best part of the day was yet to come. We picked up Brooks and Vic took us to one of Brooks' favorite fishing spots on the Klaskanine River, about a half-hour drive from Warrenton. The Chinook salmon run in the area was just starting and his hopes were that they were starting to be more plentiful upriver. Most of the salmon and steelhead in the Klaskanine come from one of the two hatcheries on the river's north and south forks, but the river does not get heavily fished as it empties into Youngs River and Youngs Bay in Warrenton which are more popular and more accessible fishing spots.
Brooks works for Fish and Wildlife and is an avid fisherman and hunter himself with great knowledge of the area—even though it is still fairly new to him. I purchased a one-day license and salmon tag for $16.50 and he provided the rod and rigging. Everything in the area depends on tides so the plan was to head downriver against the incoming tide—best time for fishing. Our Hobie kayaks with their turbo-flipper pedals would be perfect for slow trolling even against the current. We used 30# test line with a spinner and sufficient weights to troll the river by letting out 50' of line. The average size salmon would be 15-20 # so I had to be ready for a big hit when it came. My instructions were to give the line a hard yank to set the hook and pedal like hell. After about a half hour of fishing, the big hit came and I did my best to jerk the line and pedal fast only to look back and see Brooks holding the line. It was just a test and I passed. What an adrenaline rush though!
I have loved to fish since I was a young girl and my dad would take me bobber fishing at a dam on the Fox River in Northern Illinois. I have not done much fishing in my adult life and vowed to take it up again in retirement. Well, here I am. I did get an annual saltwater license and new rod and reel when we were in Florida and we bought the pedal kayaks so we could also use them for fishing. This day with my son was just perfect happiness for me. We spent almost four hours on the river with exciting moments of watching salmon jump and rise. I had one hit and lost it, but neither of us landed a fish. My only disappointment was that this was our last day there as I was hungry for more time on the river. I could definitely develop the kind of fishing addiction that my son has and only wish we had planned to spend more time here as the salmon season was just getting started. I already put a note on my phone calendar to block out the last two weeks in August for Astoria salmon fishing next year!
To cap off this most perfect day, Vic came to pick us up at the river at 7:30 p.m. and we headed a few miles down a country road to the town of Olney, Oregon. The Olney bar in town is called the Big O Saloon and General Store. What a great country bar! I forgot to take a photo, but found this one on the internet taken in winter.
The Big O is another one of Brooks favorite spots as it is perched halfway between his elk hunting spot on Green Mountain (where he got his first elk with a bow last fall) and one of his favorite salmon fishing holes. We really enjoyed getting to experience a slice of his life in this pristine part of the country. I even started to fantasize about a little mini-farm spread along the river where I could fish everyday. . . . It's easy to love Oregon in the summer.
With Brooks back to work early the next morning, we had to say our goodbyes that night when we dropped him off at his home. Suddenly, it felt like the time together was much too short and facing another year apart made me sad. Fortunately, there is a good chance he will come to do some fishing with me in Florida this winter. Gotta just appreciate each moment that we had together and get ready to move along down that great highway of life. My new mantra: Practice Gratitude.