March 8-20, 2013
Corvallis & Astoria, Oregon
Spanning the mighty Columbia River, the Astoria-Megler Bridge
stretches 4 miles from Astoria, Oregon, to Point Ellice, Washington. The bridge contains the longest continuous three-span through-truss in the world
Note: I am trying to catch up on blog posts after taking a ten day hiatus from our RV campground in Florida. About three weeks ago, I took advantage of mileage points with Alaska airlines and booked a trip to Oregon to visit my sons. We had been in Fort Myers at the same campground for two months (a record for us) and it seemed a good time to take advantage of a solo getaway before Vic and I start the slow trek back to the west coast in April.
After twenty months of spending 24-7 together and only a few nights of sleeping in a bed other than the motorhome, it felt incredibly strange to leave The Big EZ and be out on my own. This sentence sounds strange even as I type it as I was single for almost ten years before marrying Vic and I have a fierce independent streak. So aside from this trip being an opportunity to spend with my kids, it was healthy for Vic and me to have a chance to be apart. A friend of mine once called it a time to gain some altitude on your life—and that was literally true flying across the United States—but more figuratively true as a time to reflect on our full-time lifestyle and think about retirement plans that we may pursue in the future.
I flew in to the Portland airport on what may have been one of the prettiest March days I could recall in Oregon. Instead of a rainy overcast day, the skies were clear blue and the lushness of early spring could be seen everywhere.
I had made arrangements to stay with a dear friend in her home which is like a bed and breakfast right near downtown Corvallis. (Thank you for a being a great host Sue Lyn!) One of the first things I did after arriving was take a walk to the downtown area on this remarkably beautiful day (with a high of 68) to check out the sights.
The county courthouse has always been one of the best architectural landmarks in town and it looked just as good as ever on this spring day. The crocuses were on the wane and daffodils were pushing up everywhere.
In honor of my friend's birthday and for having me as a guest in her home, I took her out to dinner at one of the finer restaurants in Corvallis,
Luc
, where we dined on roasted beet and goat cheese salad, crab and fennel salad, and homemade gnocchi with rabbit. A splurge of a meal, but well worth it. It was great to have time to reconnect and toast to Sue Lyn's 70th birthday!
Feeling a fair amount of jet lag as well as the three hour time difference, I decided to have a lazy day before going out to Sweet Home, about a 45-minute drive, to see my youngest son Jesse. It felt a little weird to be in town and not call all of my friends and make arrangements to see them, but my biggest priority was to spend time with Jesse and later in the week go to see my son Brooks in Astoria, about a three-hour drive north.
During the first part of my week in the valley, Jesse and I spent lots of time together just hanging out and having a few meals in some new spots near his place in Sweet Home. We also checked out a few RV parks in the area. The nicest one by far is part of the
Mallard Creek Golf Course
in Lebanon. Vic and I don't golf, but Jesse is an avid golfer so he thought their "stay and play" packages that included unlimited golf for two people were quite reasonable at $300-$400 a week. Almost makes me want to take up golf.
One of the best parts of my stay in Oregon was that Jesse was able to take time off to travel with me to Astoria to see my oldest son Brooks. We realized that the three of us had not spent time alone together in probably fifteen years—way too long! Astoria is best known as a world class destination for salmon fishing on the Columbia River and its tributaries. Brooks has a state job working for Fish and Wildlife monitoring gill net fishing in the area.
I booked a room at the
Holiday Inn Express
right on the Columbia River near downtown Astoria. What a view we had from our room. Usually I don't like to hang out in hotel rooms, but with a gas fireplace, an amazing view, and lots of hot tea options to make right in the room, we didn't mind spending time here catching up on our lives.
We did plenty of other things together as we were lucky to catch Brooks at the beginning of his days off. The first night I wanted to have a special meal together. Brooks chose the
Bridgewater Bistro
, a great restaurant just a couple blocks west of our hotel. The chef happens to be Brooks' roommate and the food was some of the best I have had in a long time. This guy has some serious talent and creativity. I had what they call a Mayan Salad—with red quinoa, roasted beets and yams, avocado, corn-black bean relish, and a honey lime dressing. Jesse had the amazing pan roasted Willapa Bay oysters with homemade creole remoulade and Brooks had one of the specials, Osso Busco, with polenta—major comfort food—and it was off the charts. We passed on dessert, but the waitress brought us a passionfruit sorbet to share because she wanted us to try it. What a great way to start our time together.
The next day we took a tour of Astoria and high on the list of things to do was visit one of Astoria's most famous landmarks:
The Goonies House!
My kids have seen this 1985 cult movie countless times. As soon as we arrived, they started their comical impersonations of the characters while quoting some of their favorite lines.
Why don`t we just spread chocolate all over the floor and let Chunk eat his way through? First you gotta do the truffle shuffle. Goonies never say die! Heeyyyyy Yooooouuu Guyyyyyys!
It was fun to see them get into the memories of being so enamored with this movie when they were kids. For me, the truth is I hardly remember it. I was teaching school, grading papers, and shuttling these guys around to all their sports events, so TV or movie watching was pretty low on the list. We thought about renting the DVD while we were there but they both agreed it was a better memory as it was. There were, however, many more conversations about the other Goonie set locations as we continued to explore the town.
Next up was checking out
The Astoria Column
. The column, a 125 ft. structure, is a notable landmark that sits on a bluff above Astoria. Vic and I visited this area last August and I did a post on it then, but it was fun to see it for a second time. You can climb the column's 164 stairs to a viewing area at the top which looks out on a 360 degree view of the bar where the Columbia River meets the Pacific, the snow-capped volcanoes of the Cascade Range to the east, and the peaks of Saddle Mountain (Brooks' favorite elk hunting grounds) overlooking Youngs River to the south. (We did climb the 164 steps and my legs were sore the next day, but I didn't admit this to my kids.)
The outside of the column is painted with scenes that begin with the history of this area before man arrived. As the column rises, the scenes trace the history of the first encounters with white men leading up to Lewis and Clark and beyond.
This is the most amazing view from the bluff as you can see the Pacific Ocean way to the left and the picturesque bridge spanning the Columbia River.
Here is the view of Saddle Mountain to the far left and Youngs River, but something went weird with my camera (only had my droid phone with me) because the clouds were not black and smokey looking.
From The Column off we went to show Jesse
Long Beach, Washington
about a twenty minute ride after crossing the Astoria-Megler Bridge. It was an unusually pretty day to check out what they claim is the world's longest beach. The surprising thing is they allow people to drive their cars on the beach—not an idea I favor especially since this is a well-known clam digging beach. This area is also known for some of the best tasting farmed oysters I have ever eaten from Willapa Bay. They are supposedly from one of the cleanest estuaries in the United States.
I found Willapa Bay oysters in the fish section of a Sweetbay grocery store in Florida so they must have quite an oyster industry in this area.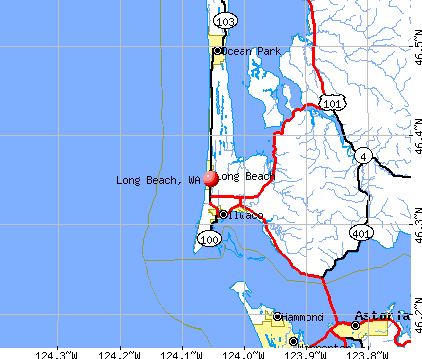 After a brisk walk on the beach, we found a cute little seafood cafe called
Castaways
where we had outrageously good clam chowder and another Northwest favorite, razor clams. A good way to end our afternoon on Long Beach together.
Sadly, our last day together came way too soon. We decided we had time to check out
Fort Clatsop National Historic Park
, the place where Lewis and Clark wintered from Dec. 1805 to March 1806. Lewis and Clark chose this spot because it was high ground for staying relatively dry in the winter, had large herds of elk and deer, and close access to the ocean for making salt to cure their meat. The actual forts on the grounds are all replicas some of which were just reconstructed again due to a fire in 2005. The museum inside is very well done showing illustrated sections of the journals describing the expedition in this area along with their various tools, hunting and fishing gear, clothing, and cooking utensils. We especially enjoyed walking the trails outside imagining these were the very woods where they hunted and fished.
After visiting Fort Clatsop, Brooks wanted to show us one of his favorite fishing holes just below
Youngs River Falls,
about a twenty minute drive from Fort Clatsop. The falls were first discovered by some members of the Lewis and Clark expedition. Today the 65 ft. falls have become fairly popular as they have been featured in television commercials and a few movies:
Free Willy 2, Teenage Mutant Ninja Turtles 3
, and
Benji the Hunted
.
After viewing the falls, we chose a funky little Mexican restaurant,
La Cabana de Raya
, in Astoria with a nice view of Youngs Bay for a late lunch before our departure. The food was excellent with homemade tortillas, fresh ceviche made from local sole, and authentic sauces prepared from scratch. Pretty surprising little find. We asked the waitress to take a photo of us with my smart phone—not the best—but still one I will cherish for the memory of this special time together.
It was now time to say adios to Brooks as Jesse and I made the trip back to Corvallis. Vic and I plan to return to Astoria this August during the beginning of the fall Chinook salmon run to visit Brooks and do some kayak fishing in the area. We will be back in Oregon in the motorhome in early July and hope to have other opportunities to spend time together even before our trip to Astoria—so I tell myself--as saying goodbye seems harder than ever. Jesse and I had a rainy trip back across Hwy 30 and south on I-5 then it was time for another goodbye. And a lovely time in Oregon comes to an end. I take a long moment to fully experience the gratitude I feel to have had this special time together with two amazing young men. Blessings abound.